Of course, the Chef Stagiaire Award is all about giving young chefs the opportunity to learn new techniques and to give them the chance to work with experienced chefs and acclaimed restaurants. And for Emily, this has been a particular highlight in her first week at Atelier Crenn. Describing the kitchen as like no other place she has worked, Emily has experimented with new techniques in her first week. From making pearls with liquid nitrogen for a grains dish and using a dehydrator to make meringues for a salad, it has certainly been an interesting and invaluable time so far.
As well as learning new techniques and skills, Emily has been given the responsibility of preparing the fish dish for the duration of her 2 week stage. This dish is an exquisite Japanese fish dish, paired with pickled beetroot, baby turnips, turnip puree, tempura turnip leaves and snow.
Alongside preparing the fish dish, Emily has been learning more about the complex and exclusive menu at Atelier Crenn. With just twenty dishes on the menu, she has found it both interesting and unusual preparing a smaller and more intricate menu. While host to fewer dishes, each plate is exquisitely presented and contains a wide variety of components – for example, the mussel dessert has fifteen different components to it (which Emily is hoping she will learn by the time she leaves!).
Undoubtedly, working at Atelier Crenn has already been an once-in-a-lifetime experience and Emily is looking forward to her second week at the restaurant before flying to Oman to stage at Zighy Bay. But whilst she has been working hard with Dominique and the team, she's also had time to fit in some sightseeing in the Californian city. On Monday, she was able to visit the world-renowned Golden Gate Bridge, the vibrant Union Square, Fisherman's Wharf, Pier 39 and Alcatraz. Emily is having a wonderful time exploring the beautiful city, and is particularly enjoying the rich history of the amazing city – and she only wishes that she had more time to explore!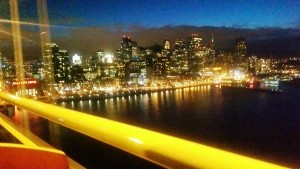 Please FOLLOW and LIKE Chef Stagiaire: