Having spent her first week at acclaimed restaurant Atelier Crenn, Emily's second week in San Francisco brought even more exciting experiences both in the Michelin-starred kitchen and in the Californian city.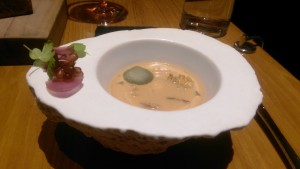 With her two weeks in San Francisco now complete, Emily had a chance to reflect on how working with a new and very different team brought her new experiences, skills and cooking techniques. What was particularly interesting for her was the level of preparation work involved in creating the unique menu at Atelier Crenn. Whilst working hours weren't too different to what she was used to back in England, the restaurant only served a dinner menu, meaning much of her time was spent preparing the ingredients throughout the day. She was inspired by just how hard the Atelier Crenn team worked, and found it extremely insightful learning these new preparation skills and new cooking techniques.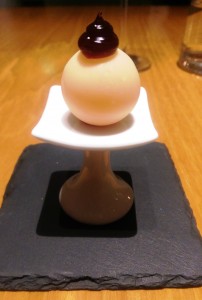 It's these new skills that have, of course, been a particular highlight for Emily. Atelier Crenn is a twice Michelin starred restaurant and Emily was able to find out exactly how much work and effort goes into preparing a dining experience of this calibre. The carrot jerky was one dish that stood out for the Stagiaire winner, being an ingredient that took 4 day to cure, marinate and dry out. Needless to say, the end product was outstanding and well worth the effort that went into its creation. Another stand-out dish from her time at Atelier Crenn was the jelly fish – which was wholly new for Emily and something that she enjoyed trying.
Whilst her work in the Atelier Crenn restaurant was a rewarding and inspiring experience, Emily still found time to enjoy herself in San Francisco and see more of the exquisite sights on offer in this famous city. On recommendation from her colleagues, she ate dim sum in China Town, visited the Japanese Tea Garden at the Golden Gate and, of course, took a ride on the famous San Francisco cable cars.
On her last day in the city, the Atelier Crenn team invited Emily to dinner at the restaurant to enjoy the dining experience. The restaurant is famed for its poetic menu and intricately detailed dishes, of which Emily was grateful and honoured to have the chance of tasting. While virtually impossible for her to pick her favourite dish from the menu, her particular highlights were the lobster bisque with bone marrow, sweetbreads and sea grapes, as well as the squid dish, with smoked potato puree, ham and truffle broth served with buckwheat crackers.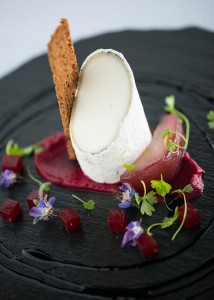 With a heartfelt thanks to the Atelier Crenn kitchen and particular thanks to Chef Chris Bleidorn and Chef Dan Beal (Emily will miss your English accent), Emily now moves on to Zighy Bay in Oman for her next stage. We're sure that it will be another unforgettable experience, and look forward to hearing more about her trip.
Please FOLLOW and LIKE Chef Stagiaire: