Mike and Imogen North warmly welcome you to The Nut Tree Inn. Celebrating 10 years in November 2016 since they opened their dream village pub in Murcott village, Oxfordshire.
Mike grew up in the area and he'd always harboured dreams of owning The Nut Tree. In November 2006 he made it a reality when he and his fiancee Imogen bought the pub.
The Nut Tree is a traditional village pub which serves great modern British food in the restaurant but is still somewhere you can stop and have a pint or relaxing drink at the end of a hard day's work. Even our own Nut Tree ales. Within the 15th century thatched building you'll find a mix of locals and visitors enjoying real ales, fine wines, excellent food and attentive service. Our bar food also serves our home-made fish and chips.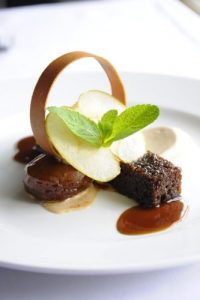 We are delighted to have been awarded a Michelin star for the ninth year running. More accreditations we are so proud of here.
We would like to congratulate Head Chef Mary North for getting married earlier this year. Our team were runners up in the Copa Jerez Sherry finals 2016. The eight finalists competed against each other in a live head-to head challenge, in early October, at the Restaurant Show. The esteemed panel of judges voted our team second, only to the Ritz Carlton in London! Well done team.
For bookings to dine and further information: The Nut Tree Inn, Murcott, Oxfordshire
Please FOLLOW and LIKE Chef Stagiaire: