WEEK 1
Chef Stagiaire Award 2017 – Diary of my trip to Les Sources de Caudalie, Bordeaux
Day 1
Finally, the day is here and im on my way to  one of the best Restaurants in Europe!! 'Excited' does not even come close to describing it!
I began my work in the Brasserie restaurant within the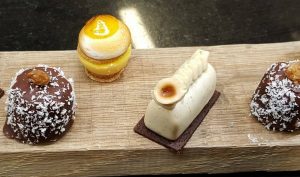 hotel. I suspect the Executive Chef wanted to test me and see what skill level is was at before immersing me in the Michelin awarded kitchen. I spent the day preparing the meat and garnish section. During service I was assisting the garnish section and trying to learn as much as possible about the dishes on the menu. You could really see the classical French cookery in the food that they produce in the brasserie. The food is simple but because of the quality of the ingredients and the sheer passion, the flavour they extract is astounding. I can really see a difference in the quality of produce that they get in Bordeaux, they are much more flavourful and very fresh. I struggled a bit because of the language barrier but happily there are a couple of people in the kitchen who speak fluent English that can help translate.
Day 2
Today in the Brasserie we prepared for 30 covers at lunch. I was trusted to do the garnish section by myself! Quite and honour. I made the purees, soups and pasta for the menu as well as preparing some for the following day. Even though it was relatively quiet, it was quite hard as everything is read in French so someone has to translate all of the time. But my French has definitely improved over the last 24 hours!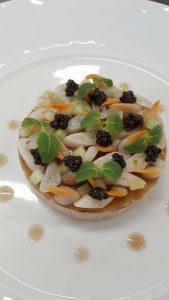 Day 3
Today I mainly spent the day doing preparation for all sections. I was filleting and pin boning all of the fish they use in the brasserie, stuffing the chickens with a beautiful olive mousse, French trimming 30 lamb racks and portioning them. I spent some time today watching how the Gastronomy kitchen prepare, cook and plate most dishes so when I join them next week i'll have an idea on the methods and techniques. Even though the fine dining kitchen can only do 14 tables, around 40 covers in total, they have a huge brigade of Chefs to control every element of the service and preparation. It was interesting seeing how they can all change easily between sections. It is obvious that all of the chefs that work there have deep experience and knowledge of every single section. From an onlooker it is almost impossible to see the chefs transitioning between the sections, they don't really communicate verbally, its almost as if they can read each others minds! Stunning display of teamwork and a joy to watch.
Day 4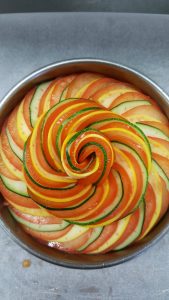 Today I was back on the Brasserie Garnish by myself, which was great to be involved so soon after arriving. I was responsible for all the mise en place and service, completely un-aided. I think the Chefs are very happy with my progress in such a short time. It was very busy both at lunch and dinner doing around 200 covers combined. This was significantly more than i had experienced the day before when i was on the section, so it was a bit of a shock, but I got through it successfully [i hope!]. Even though it was busy it remained a calm and organised kitchen, because everyone knew what they were doing and I could understand every ticket they read out in French. Being put in the situation where you have to learn the language to understand is tricky, but i was very satisfied. Day by day I am learning more and more. They had a special today of Iberico Ham Risotto with seared Courgettes. As I was on the garnish section all the components came from my section, but I was confident with this, as I have a lot experience with Risotto back in the UK. Overall this was a great day and I'm very happy with my performance at this level.
Day 5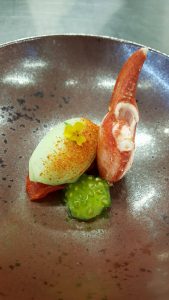 As it is Friday it was super busy in the Brasserie and we did between 250 and 300 covers for both lunch and dinner. I am very grateful for my early training at Westminster Kingsway College because as we were taught classical French cookery, and we always worked using the French terminology. Still, there are some terms I'm not familiar with and it can take 4 or 5 attempts for me to understand! Today was my last day in the brasserie and I thoroughly enjoyed it. It is completely different cooking as I am used to but an amazing learning experience. Next week I start in the Fine dining kitchen where I hope i will feel more at home due to my experience in the UK. The special today was Pigeon which I butchered and prepared. I put the legs to confit, kept the breasts on the crown and with the offal I made a mousseline to be spread over a croute and grilled. It was served with seared oyster mushrooms and slow pan roasted micro potatoes. Lovely!
Please FOLLOW and LIKE Chef Stagiaire: