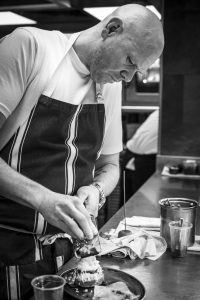 Chef Competition
The 2 finalists will stage for a further week at one of the countries leading restaurants and be judged to select the chef competition winner.
The Final Stages for the last 3 competitions are as follows:
2018 is Tom Kerridge at The Hand and Flowers and Head Chef Aaron Mulliss
2017 Restaurant Sat Bains with Rooms under Head Chef John Freeman.
2014/2015 Dinner by Heston Blumenthal, under Head Chef Ashley Palmer-Watts
The winning chef will have to show formidable skills, passion and creativity beyond reproach to prove they are worthy of winning the Chef Stagiaire Award.