Glynn Purnell
Purnell's career started in 1996 when he joined Andreas Antona at Simpsons restaurant – then based in Kenilworth, Warwickshire – as Chef de Partie. While at Simpsons he did some notable placements with chefs including Gordon Ramsay and Gary Rhodes, and at restaurants in Lyon, Montpellier and the Basque Country. In 2002 he worked for six months as Sous Chef at Claude Bosi's H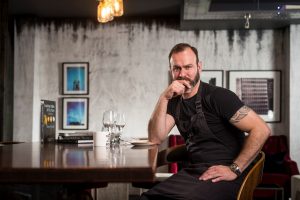 ibiscus restaurant in Ludlow, Shropshire.
2003 was the year that Purnell was appointed to his first Head Chef role at Jessica's in Edgbaston, Birmingham, which was awarded the first Michelin star given to a Birmingham restaurant in 2005.
Purnell left Jessica's in 2007 and opened his own restaurant, Purnell's in Cornwall Street, in Birmingham's city centre, which was awarded a Michelin star in January 2009, won the AA Restaurant of the Year award in September of the same year.
Luke Butcher
Luke started working at Michelin Star Adlards and after a Pastry Chef walked out he was put on pastry. This is where he met Tom Kerridge as he was appointed Head Chef. When Tom Kerridge left for Hand and Flowers Luke joined him.
Luke had
tempting offers from places such like Per Se but decided to join Purnell's as he wanted to move to Birmingham.
Tom actually phoned Glynn up who was looking for a Pastry Chef and in 2010 Luke joined Purnell's and has risen from Pastry Chef all the way to Head Chef.
http://www.purnellsrestaurant.com/
Please FOLLOW and LIKE Chef Stagiaire: