Restaurant Fraiche gained a Michelin star in 2009 and has retained it since. Restaurant Fraiche is tucked away in the quirky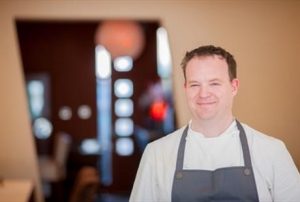 little village of Oxton – Wirrall and it is a bit of a revelation to find such a modern intimate dining space here as what is inside completely contrasts its surroundings. The interior of the restaurant is almost a feng shui approach with the music, lighting and spacing carefully chosen to reflect the mood of the. With only 16 covers in the restaurant the atmosphere is so warm yet the attention to detail and quality of the dishes is so refined. The variation of dishes incorporates a wide range of styles from the modern gastronomic approach to the dishes to the foundations of a classical style.
Starting off in a small three star hotel in Anglesey North Wales to becoming Head Chef Patron of Restaurant Fraiche shows Marc Wilkinson has had a remarkable journey. And this is what his dishes are about, his personal journey. He has trained in the best restaurants for example, Michelin starred Arkle restaurant at the Chestor Grosvenor hotel and Relais Cheteaux in Canada before returning to his roots. His inspiration driven from the scientific approach of Heston Blumenthal and has adapted a keen eye for original combinations. His ethos is when you stop chasing accolades that's when you find your muse for true food and has taken pride in focusing on the dishes rather than the rewards of the job.
https://www.restaurantfraiche.com/
Please FOLLOW and LIKE Chef Stagiaire: