Location: South West, United Kingdom
An established culinary destination and a much sought-after fine dining Cotswolds restaurant, at Lords of the Manor we combine excellent service and decadent dishes to deliver a truly special dining experience.
Listed in the Sunday Times' Top 100 restaurants in Britain, and named as one of the Top 20 Most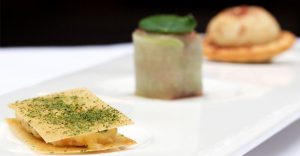 Romantic Dining Rooms by The Times and consistently recognised by the Good Food Guide, you truly don't want to miss out on experiencing the finest restaurant in the Cotswolds.
Under Head Chef Charles Smith and his dedicated brigade, it's clear that the passion and creativity of the kitchen truly forms the heart and soul of the hotel. Charles' career is described by The Good Food Guide as 'one of the blessed' due to his stints at Thomas Keller's Per Se (New York) and Alyn Williams' The Westbury. Indulge in exquisite dishes that utilise Chef's passion for sourcing the best producers.  The cuisine combines French influence and Cotswold terroir, there's no competition when it comes to our restaurant in the Cotswolds.
Please FOLLOW and LIKE Chef Stagiaire:
Apply for stage at this establishment
Input your details below to apply for a stage at this establishment. PLEASE NOTE: You are only able to apply for 3 opportunities in a 6 month period, so select your opportunities carefully!