Location: Home Counties, United Kingdom
The Royal Oak retains its Michelin Star and three AA Rosettes under Craig Johnston, Head Chef, who worked his way up through the ranks including reaching the Final of the first ever Chef Stagiaire Award in 2014.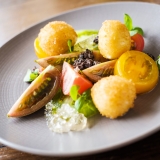 Described simply as 'British food cooked to perfection', they select the best seasonal produce, sourced locally whenever possible but we're not afraid to go further afield to assure the quality.
The aim is that each customer who dines at The Royal Oak has the opportunity to embrace the satisfying flavours and visual innovation of each dish. Close your eyes and taste the flavours; they have not been lost in over complicated cooking methods. They have not been compromised by unnecessary ingredients  … Open your eyes and experience the vibrancy of the seasonal produce kept true to form.
Please FOLLOW and LIKE Chef Stagiaire:
Apply for stage at this establishment
Input your details below to apply for a stage at this establishment. PLEASE NOTE: You are only able to apply for 3 opportunities in a 6 month period, so select your opportunities carefully!