Location: Midlands, United Kingdom
Adam Stokes
Adam began his professional career spending seven years at Hambleton Hall in Leicestershire under Aaron Patterson. Leaving this role as Sous Chef, in 2008 he became Head Chef at Glenapp Castle in the southwest of Scotland at the age 26 and achieved a Michelin star by the age of 30
Adam moved to central Birmingham where he and his wife Natasha initially set up their two-year trial restaurant,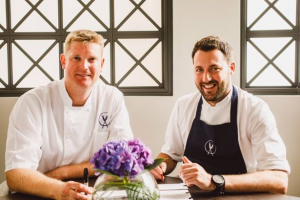 Adam's – 6 months later he was awarded a Michelin star and has since moved to a larger venue.
Tom Shepherd
Tom became Head Chef at Adams in 2017 after returning to his hometown of Birmingham.Starting his professional career off at a 2 Rosette Hotel in Sutton Coldfield, Tom has simply excelled.    In 2013 Tom as Sous Chef of The Samling Hotel led the team to achieve a Michelin star in 11 months. He then joined 2 Michelin Star/5 Rosettes Michael Wignal at The Latymer as Sous Chef for 18 months before joining 2 Michelin Star/5 Rosettes kitchen – Restaurant Sat Bains with Rooms as the restaurants first Development Chef.
From RSB he headed to London and joined up with Adam Degg and created The Development Kitchen which was a pop up restaurant concept – the plan was to do this concept for a couple years but Tom and had the opportunity to do something he has wanted to do for a while – be Head Chef at a Michelin Star property in his home town of Birmingham. https://www.adamsrestaurant.co.uk/
Please FOLLOW and LIKE Chef Stagiaire: